Unlock the Secret to Great Event
JD Stewart MD (magic dude) offers a wide range of entertainment. It suits just about any event. If you have a unique event that requires some creative approaches to the entertainment please reach out directly for a free consultation. 
Cool!
Making your next event memorable is a difficult task. You need it to be clean, fun, and interactive! JD Stewart MD (magic dude) understands your needs and personally guarantees that YOU will look good, your guests will laugh out loud, and be totally amazed!
Strolling magic is ideal for many occasions. It is perfect for cocktail hours or private parties. It adds to graduations and wedding receptions. Hospitality suites are great for strolling magic. Amaze that important client. Strolling magic adds spark where ever people mingle. Strolling breaks the ice between your guests. With strolling magic you provide fun and excitement. Imagine your guest's enjoyment. You will provide them world-class close-up magic. It happens right in front of their very eyes. JD Stewart MD (magic dude) is a master of magical entertainment.
JD shows are clean comedy magic at its best! What are the magic dude's shows suited for? They work for:
Private parties
Business meetings
Hospitality suits
Any group you want 
thoroughly
entertained.
People will laugh. They will
be amazed
. But most of all they will be
truly
entertained!  
JD understands that last minute changes in schedules. Speakers run late. You need something to fill the time. Meetings and awards ceremonies can run over the allotted time. JD's goal is to help you on the best event possible, no matter what it takes!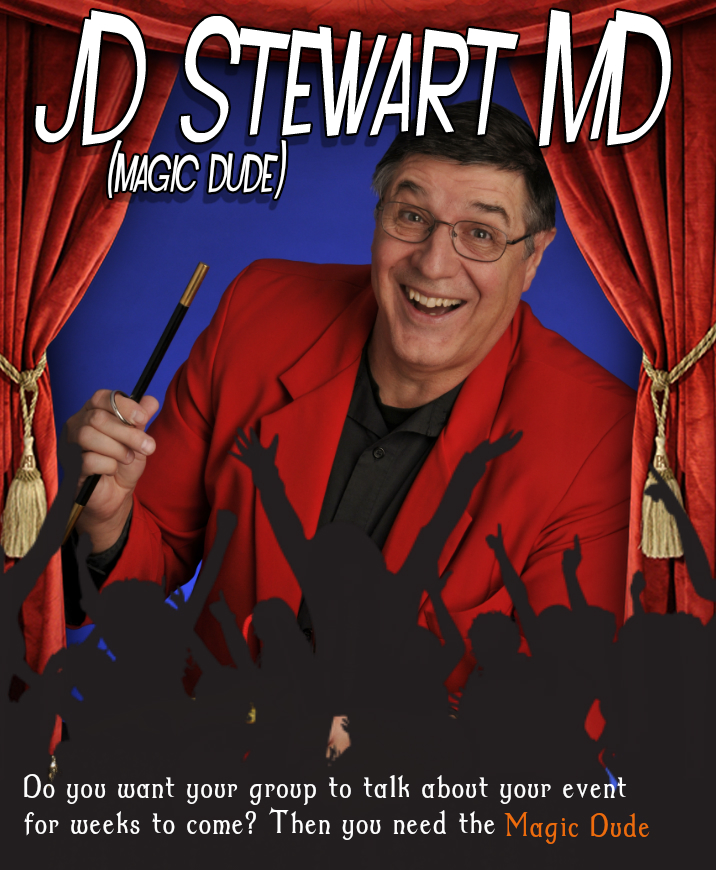 Some of the JD Stewart MD (magic dude) Clients and Venues

Partial List of Venues and Clients
HEB
Enterprise Rent-a-Car
Rotary Clubs
Waste Management Systems
Prodigy Development Center
Toys-R-Us
Texas State School
360Commerce
Dell Children's Hospital
Federal Correction Institute Employee Club
Mason Elementary School
Leander High School Drama Department
Early Childhood Development Center
Three Ring Service
Hilton Hotels Marriott Corporation
Marble Falls Chamber of Commerce
Crystal Falls Theater
Franklin Church of the Nazarene – Nampa, ID
Long Center
Texas School For the Deaf 
New Hope Baptist Church
Leander High School 
Marble Falls High School 
Texas Association of Magicians 
Ralacio Del Rio – San Antonio 
Partial List of Venues and Clients
La Petite Children's Academy
Austin Home And Garden Show
Greater Parkway Baptist Church
Way Off Broadway Community Players
American Legislative Council
Children's Courtyard
Covenant Lutheran Church – Temple, TX
Snelling Staffing Services
West Chester Church of the Nazarene
Shoes for Austin
Mr. Johnny Productions
Leukemia/Lymphoma Society
Laura Bush Elementary School
City of Georgetown
Grace Covenant Church
Kent Cummins Magic Camp
Marriott Corporation
Texas Instruments
1st Church of the Nazarene – Las Vegas
Oracle Corporation
Omni Hotel
Shenandoah Baptist Church
Laura Bush Elementary School
Hendrickson High School
Manchaca Elementary School
Intercontinental Hotel Dallas
Heroes Night Out